Within One Hundredth is a bronze-level PSN trophy from Gran Turismo 5 and Gran Turismo 6, (the latter as 0.01 Seconds!).
Requisites
Edit
This trophy requires a driver to win a race in which the second-placed car finishes less that one-hundredth of a second behind. While this seems very difficult, it is plausible that this trophy can be acquired during the first event of the Jeff Gordon NASCAR School. Otherwise, it is likely to unlock at some point during a career.
This trophy can be acquired during Arcade, Career or Online gameplay.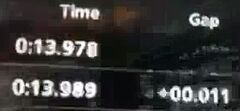 Ad blocker interference detected!
Wikia is a free-to-use site that makes money from advertising. We have a modified experience for viewers using ad blockers

Wikia is not accessible if you've made further modifications. Remove the custom ad blocker rule(s) and the page will load as expected.