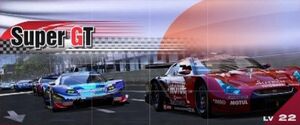 Super GT is an Extreme Series event available at Level 22. Suitable cars are from Japanese manufacturers, such as Honda, Nissan, Toyota and Lexus.
In the A-Spec mode, the races have 10 laps in total, but have 20 more laps in B-Spec mode.
The event itself is based on the actual Super GT that ran from 2005 onwards, renamed from what was initially the All-Japan Grand Touring Car Championship (JGTC) and continuing where it left off.
Requirements
Edit
Country: Japan
Model: JGTC or Super GT only
Ad blocker interference detected!
Wikia is a free-to-use site that makes money from advertising. We have a modified experience for viewers using ad blockers

Wikia is not accessible if you've made further modifications. Remove the custom ad blocker rule(s) and the page will load as expected.