This page is about the Gran Turismo 3 Event. For other meanings, see Sunday Cup (disambiguation)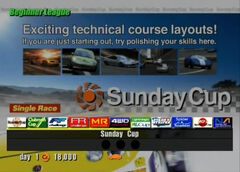 The Sunday Cup is a three race non-series event in Gran Turismo 3. It is housed in the Beginner Events area of Gran Turismo mode. It also carries the lowest prize pool of any event in Gran Turismo 3.
Event Restrictions
Edit
Car Restrictions: None
Tire Restrictions: None
License Requirements: None
Races in Sunday CupEdit
Prize Structure
Edit
Prizes for Finishing Positions
Edit
1st: Cr. 1,000
2nd: Cr. 900
3rd: Cr. 800
4th: Cr. 700
5th: Cr. 600
6th: Cr. 500
Prize Car
Edit
Successful completion of all 3 races in Sunday Cup awards the player:
The Sunday Cup is one of the few events to have been ever-present in all mainline versions of Gran Turismo.
Ad blocker interference detected!
Wikia is a free-to-use site that makes money from advertising. We have a modified experience for viewers using ad blockers

Wikia is not accessible if you've made further modifications. Remove the custom ad blocker rule(s) and the page will load as expected.