South Korea (Republic of Korea) is a country in eastern Asia. It is bordered by North Korea (Korea DPR) to the North, and has coastlines on the Sea of Japan, Yellow Sea and East China Sea. It is a minor automobile city as the country now focuses more on performing arts.
South Korea in Gran Turismo
Edit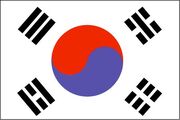 Manufacturers
Edit
Ad blocker interference detected!
Wikia is a free-to-use site that makes money from advertising. We have a modified experience for viewers using ad blockers

Wikia is not accessible if you've made further modifications. Remove the custom ad blocker rule(s) and the page will load as expected.