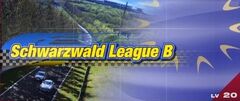 Schwarzwald League B is an Extreme Series event available from level 20.
Requirements
Edit
A-Spec
B-Spec
Recommended Cars
Edit
Audi Le Mans quattro '03 - you win it from the A-Spec European Championship, and despite being almost a body double of he R8 production car it previewed, it was superior in power, so should be able to shake off any R8s in the race. Fit it with some tough tires, though.
Ad blocker interference detected!
Wikia is a free-to-use site that makes money from advertising. We have a modified experience for viewers using ad blockers

Wikia is not accessible if you've made further modifications. Remove the custom ad blocker rule(s) and the page will load as expected.