The Rome Circuit appears in three different layouts in different games. This page is for the layout that appeared in Gran Turismo 2 and Gran Turismo 3: A-Spec. For the layout that appears in Gran Turismo 5, see Rome Circuit (GT5). For the GT2 circuit known as Rome Night, see Rome-Night
Rome Circuit is a city street circuit based around the streets of Rome, Italy. It appears in Gran Turismo 2 and Gran Turismo 3: A-Spec. It is based on real-world roads around the Colosseum area, with its third and fourth corner swinging around the landmark itself. Part of its route is used as a constituent to the modern Rome Circuit raced in modern games.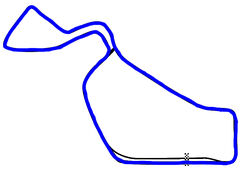 Rome Circuit is a 13-turn city course based in Rome, Italy. The name has appeared in Gran Turismo 2 and Gran Turismo 3: A-Spec. The GT2 layout had a hidden corner that completed the short course. It was later renovated in GT5 in a new layout, using part of the now old circuit as part of its own. It's route is drivable in real life, as with the new circuit. However, in real life, it's viability as a racing course can be called to question. While some of the roads are very ideal for a street circuit, objects like road separation, street sighs and lights in the road, construction and close foliage perhaps hinder it's potential to be raced on.
Generally, the Rome Circuit is a relatively technical course, requiring a car with high acceleration and handling. The pit lane is located on Viale delle Terme di Caracalla, leading north to the Coliseum section. The wide hairpin at Largo Corrado Ricci (the 6th turn) is the best overtaking spot if you brake hard and early to 2nd gear, giving you enough momentum to take the corner flat-out. The back straight follows Via Claudia and Via della Navacella, before the 90° right-hander at Piazza di Porta Metronia. The swooping first corner is also a good overtaking spot if your car has a particularly quick acceleration.
An unfinished version of this circuit can also be found in Gran Turismo PSP. However, this circuit can't be accessed through normal means in that game.
↑

Inaccessible through normal means
Ad blocker interference detected!
Wikia is a free-to-use site that makes money from advertising. We have a modified experience for viewers using ad blockers

Wikia is not accessible if you've made further modifications. Remove the custom ad blocker rule(s) and the page will load as expected.