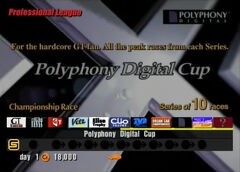 The Polyphony Digital Cup is a 10 race championship event which resides in the Professional League of Gran Turismo 3: A-Spec's Simulation Mode. The championship is open to non-racing car models only and has prizes for only first place in each race.
Restrictions
Edit
License: S License
Tires: Any (Tire Wear Enabled)
Modification type: Road cars only
Tuning: No restrictions
All races are in reverse and last for 20 laps.
1st: Cr. 50,000
2nd-6th: Cr. 0
Winning the series championship awards Cr. 400,000 and one of the following: