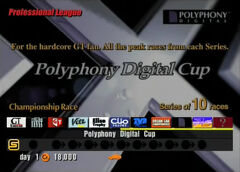 The Polyphony Digital Cup is a 10 race championship event which resides in the Professional League of Gran Turismo 3: A-Spec's Simulation Mode. The championship is open to road-legal car models only and has prizes for only first place in each race.
Restrictions
Edit
License: S License
Tires: Any (Tire Wear Enabled)
Specific: Unmodified (Road-Legal) Cars only
All races are in reverse and last for 20 laps.
1st: Cr. 50,000
2nd-6th: Cr. 0
Winning the series championship awards Cr. 450,000 and one of the following:
Ad blocker interference detected!
Wikia is a free-to-use site that makes money from advertising. We have a modified experience for viewers using ad blockers

Wikia is not accessible if you've made further modifications. Remove the custom ad blocker rule(s) and the page will load as expected.