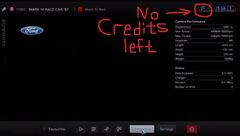 Penniless is a PlayStation Network Bronze-level trophy awarded through Gran Turismo 5
Requisites/Walkthrough
Edit
The Penniless trophy is awarded when the player has spent every credit they have. Doing this mid-way through a game can be very tricky, as finding the correct cars to buy to spend exactly the amount in the players bank can be very time-consuming. There are, however, two easy ways to achieve this trophy:
At the very start of the game, when prompted to buy a starter car, the player can buy a car for 19,000Cr (for example, the Mazda Eunos Roadster J-Limited (NA) '91) and can then spend the remaining 1,000Cr on a Sports ECU (Racing chip) from the Tuning Shop.
Alternatively, much later in the game, when the player reaches the limit of 20,000,000Cr, they can purchase one of several cars from the dealership for 20,000,000Cr (for example, the Red Bull X2010 '10).
Ad blocker interference detected!
Wikia is a free-to-use site that makes money from advertising. We have a modified experience for viewers using ad blockers

Wikia is not accessible if you've made further modifications. Remove the custom ad blocker rule(s) and the page will load as expected.