Nissan R92CP Race Car '92
Appears in
Gran Turismo 4
Gran Turismo PSP
Gran Turismo 5
Gran Turismo 6
Gran Turismo Sport [1]
Type in GT5
ST[2]
Interior in GT6
Simple[3]
Manufacturer
Nissan
Displacement
3496 cc
Drivetrain
MR[4]
Aspiration
Turbo
Engine
VRH35Z
Max Power
800 PS
Performance Points
688 PP
Weight
900 kilograms (2,000 lb)
Power/Weight Ratio
1.13 kg (2.5 lb) per horsepower
Credits
Cr. 1,224,999 (GT4, Black version)
Not for sale (GT4, Normal version)
Cr.3,000,000 (GT PSP)
Cr.4,000,000 (GT5)
Cr.1,920,000 (GT6)
Cr.1,000,000 (GT Sport)
The Nissan R92CP Race Car '92 is a Group C Prototype race car built by Nissan motorsports based on the R90C, A successor to the Nissan R89C and other Nissan Group C race cars. First appeared in Gran Turismo 4, along with the black version, it also appeared again in Gran Turismo PSP, Gran Turismo 5 and Gran Turismo 6. It is also available in Gran Turismo Sport, where it was added as part of Update 1.19, released on May 30, 2018.
The car appears to be the #1, driven by Kazuyoshi Hoshino, Toshio Suzuki, and Takao Wada. This car participated in the 1992 season of the All Japan Sports Prototype Car Endurance Championship. With this car, Kazuyoshi Hoshino managed to win the championship.
In the 1991 season, Kazuyoshi Hoshino and Toshio Suzuki (Calsonic) easily won the Driver's Championship with 5 wins in 7 races. In 1992, the same team notched up 5 wins in 6 races (the other going to YHP) in a splendid defense of their throne. This is what led to Nissan taking the double title - Constructor's and Driver's Championships - for three years in a row, a glorious achievement.
Description
Edit
"This turbocharged sports car marked Nissan's swan song in Group C racing."

In the 1980s, Group C was where the most competitive GT racing occurred. Nissan engineers had the ideal engine for this class: a newly developed 3.5-liter twin turbocharged V-8. Their quandary was where to put this motor. It didn't take long to find an appropriate candidate. Dubbed the R89C, the race car was built upon a chassis co-developed by the British company, Lola.
Nissan entered the R89C in the European World Championships, the American IMSA, the All Japan GT Championships and the 24 Hours of Le Mans. Nissan also worked on developing its own chassis based on the R89C. However, when the FIA revised vehicle regulations for Group C cars in 1990, prohibiting turbocharged engines from the field, the R89C's racing days in Europe and America were over.
Nissan started development of a new Group C car for race series abroad, while the R89C continued its winning ways in Japan. This was because the All Japan Championship continued with the old group C regulations until the end of 1992. Therefore, the turbocharged engine continued, and the R92CP was born.
The revised VRH35 engine produced more than 888 HP, with the Le Mans qualifying special generating 1200. The race car reached a maximum seed of 249 mph plus on the main straight at the Fuji Speedway. It generated more than 3.5 tons of downforce.
The new race car was impressive indeed, winning all six All Japan Championship races it entered.
In-Game Acquisition
Edit
Gran Turismo 4
Edit
The R92CP can be won from Fuji 1000 km, which ironically is based off the event that the R92CP won in real life. The blue version is not purchasable in Dealership. However, players can buy the Black version from the Early 90's Used Car Dealership for 1,224,999 Credits, and this is a much easier method than doing the fairly difficult Fuji 1000 km race.
Black Version In Gran Turismo 4
Edit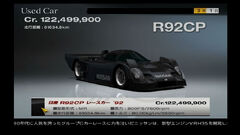 Along with the Toyota GT-ONE Race Car (TS020) '99, Nissan R390 GT1 Race Car '98 and Mazda 787B Race Car '91, the R92CP is featured in a special Black Version in Gran Turismo 4. This version, available only during the final week of the game's 700 day cycle (days 694-700) can be bought from the Used Car lot (Early 90s) for 1,224,999 Credits.
Gran Turismo PSP
Edit
This car can be acquired from the Nissan Dealership at 3,000,000 Credits.
Gran Turismo 5
Edit
This car can occasionally be bought at the Used Car Dealership for around 4,000,000 Credits. It is categorized as a Standard vehicle obtainable at Level 23.
Gran Turismo 6
Edit
This car can be purchased from the Nissan dealership for 1,920,000 Credits. It has a simple interior view.
Gran Turismo Sport
Edit
This car can be purchased in the Nissan section of Brand Central for 1,000,000 Credits.
Curiously, if both the R92CP and its older counterpart the Nissan R89C are in the same field, they may have a slightly higher chance of bump drafting each other on superspeedways such as Daytona Superspeedway than they would another car in the field.
GTPlanet member "Sorg" found files that suggested that the R92CP, like the Jaguar XJR-9 LM Race Car '88, would be converted to premium status. While this failed to materialize in Gran Turismo 6, it made its more detailed appearance in Gran Turismo Sport.