The Nissan R390 GT1 Race Car '98 was a mid-engined super car built in Atsugi, Japan. It was designed primarily to gain a suitable racing entry in the 24 Hours of Le Mans in 1997 and 1998. It was built to race under the grand tourer style rules, requiring a homologated road version to be built. It is playable in all games from Gran Turismo 2 to Gran Turismo 6. It does make an appearance in Gran Turismo Sport, but only as an honorable mention in Nissan's Museum in Brand Central, for its Le Mans achievement.
The car appears to be the #32, driven by Aguri Suzuki, Kazuyoshi Hoshino, and Masahiko Kageyama, who has finished the 1998 24 Hours of Le Mans in 3rd place overall.
In 1997 24 Hours of Le Mans, the car proved better in qualifying stage even their test of the car was insufficient. Three R390s was entered, but the two of them did not finish because of the gearbox overheating. The No.23 was able to survive and finished in 12th place.
Using the 1997 model, the car were given a major upgrade. A expanded rear bodywork and replacing the spoilers, give more downforce and less drag. Entered in four R390s, four of them able to finish in impressive 3rd, 5th, 6th and 10th, being beaten only by the Porsche 911 GT1. Following the 1998 24 Hours of Le Mans, rules for the GT classes were changed, mostly to end the amount of manufacturers attempting to use loopholes. The R390 was no longer legal, turned into the LMP classes, Nissan, developing and entering the R391 prototype in 1999.
Due to restrictions on GT classes, the road car was also built.
In-Game Description
Edit
"Developed specifically for the 24 Hours of Le Mans, this race car scored the first podium finish for Japanese drivers at the historic race."

Nissan, in an effort to claim the ever elusive title of the 24 Hours of Le Mans, developed a GT1-class machine in 1997 with TWR (Tom Walkinshaw Racing). Tony Southgate created the basic design and placed a VRH35L, a twin turbocharged 3.5 liter V-8 which is a favorite from the days of Group C cars, into a carbon monocoque body and added an orthodox suspension.
That year, the R390 was entered in Le Mans without sufficient testing and did not fare well. To rectify their mistake Nissan made big changes to the R390 for the following year, including adding ABS and TCS. Also, the stock gearbox was swapped in favor of one made by X-Track. With adequate amounts of testing, Nissan engaged in a full assault at the 1998 race with four R390s. The No. 30 car was driven by John Nielsen, Micheal Krumm, and Franck Lagorce, the No.31 by Jan Lammers, Eric Comas, and Andrea Montermini, the No.32 by Aguri Suzuki, Kazuyoshi Hoshino and Masahiko Kageyama, and finally, the No. 33 by Satoshi Motoyama, Takuya Kurosawa, and Masami Kageyama.
Porsche, Toyota, Mercedes-Benz, and BMW were all present at that year's Le Mans, making for a fierce struggle. In the end, the Porsche cars were too strong, posting 1-2 finish. but the No.32 R390 managed an impressive 3rd place. This marked the first time an all-Japanese team had made it to the podium.
In-Game Acquisition
Edit
In Gran Turismo 6, the Nissan R390 GT1 Race Car '98 can be bought for 1,700,000 Credits. The car has a simple interior view.
As a Standard car, the Nissan R390 GT1 Race Car '98 can be purchased from the Used Car Dealership for 2,928,673 Credits. It is a Level 23 car.
This car can be purchased for 3,500,000 credits. The black version is not featured in the game.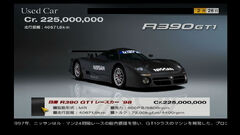 The R390 GT1 Race Car is worth 4,500,000 Credits at the Nissan Classic dealership. The Black Edition of the car can be bought at Used Car Showroom 2 (Late 90's) at days 694-700 for 2,924,999 Credits.
This car is not for sale in Dealership. Players can win this car as a random prize by completing the Gran Turismo All-Stars at the Professional League. It has a chance of 1/4 (25% of probability) to come as a prize car.
Players can win this car by winning the Gran Turismo World League. It has a chance of 1/4 (25% of probability) to come as a prize car.
↑ Appears as a Standard Car in Gran Turismo 5
↑

Appears as a simple car in Gran Turismo 6

↑

Mid-engined; Rear-Wheel Drive
Videos of the R390 GT1 Race Car in real life
Edit
Gran Turismo series
Edit