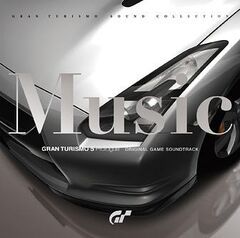 A Gran Turismo 5 Prologue soundtrack was released in Japan on February 20, 2008. The CD is published by Village Music and includes 18 tracks.
The "Moon Over The Castle" theme song from the Gran Turismo series is featured, arranged and performed by Rocky IV and Transformers: The Movie composer, Vince DiCola. DiCola stated in an interview with Music4Games that he recorded two versions of the theme, one for use in-game and the other for the soundtrack album. This new version of the song was re-recorded in Los Angeles, California.
The soundtrack also features the first new music from Weezer since 2005's Make Believe, a remix of their new song "Automatic."
The European and Japanese releases of Gran Turismo 5 Prologue featured the song "Surv1v3" by Jonathan Underdown as the opening theme song whereas the North American release featured the LA Riots remix of "Automatic" by Weezer.
Track listing
Edit
Gran Turismo 5 Prologue Original Game Soundtrack
No.
Title
Music
Length
1.
"SURV1V3"  
Daiki Kasho, Ayesha Cole
4:00
2.
"Road Star"  
Nittoku Inoue
3:36
3.
"Back 2 U"  
Makoto
3:42
4.
"Love & Peace"  
Kemmei
4:21
5.
"Flatout"  
Mitsutoshi Sato
3:16
6.
"Constructor's Blues"  
Mitsutoshi Sato
3:16
7.
"When the Rains Come"  
Satoshi Bandoh
5:14
8.
"Farewell"  
Satoshi Bandoh
4:26
9.
"Are You Ready?"  
Yudai Sato
3:10
10.
"The Last Helping"  
Mitsuharu Ura & Furani
4:03
11.
"GT-FORCE"  
Cargo
3:21
12.
"Current of the Times"  
Yudai Sato
5:13
13.
"Wind From Rio"  
Yasuo Sako
3:52
14.
"Twieky 4"  
Naomee
4:55
15.
"Sky High Mountain Breeze"  
Naomee
3:58
16.
"Edge of the World"  
Daiki Kasho
4:30
17.
"Get Away"  
Nittoku Inoue
3:12
18.
"Moon Over The Castle (GT5 Prologue Version)"  
Masahiro Andoh
5:36
Ad blocker interference detected!
Wikia is a free-to-use site that makes money from advertising. We have a modified experience for viewers using ad blockers

Wikia is not accessible if you've made further modifications. Remove the custom ad blocker rule(s) and the page will load as expected.