Ad blocker interference detected!
Wikia is a free-to-use site that makes money from advertising. We have a modified experience for viewers using ad blockers

Wikia is not accessible if you've made further modifications. Remove the custom ad blocker rule(s) and the page will load as expected.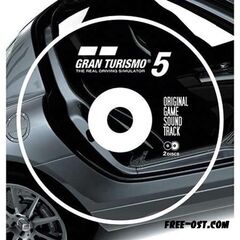 The soundtrack of Gran Turismo 5 boasts an impressive 189 music tracks for use in various parts of the game. Many of these are popular rock songs from current artists, while a number of relaxed classical tracks are included for use in the menus. On starting the game, the intro movie is overlayed with Lang Lang's rendition of Piano Sonata No. 7 (Prokofiev) Third Movement. This is followed by a gameplay movie over which either Planetary (Go!) by My Chemical Romance (prior to Spec 2.0) or 5oul on D!splay" by Daiki Kasho (after Spec 2.0) is played.
The official theme music, which was used for all official trailers of the game, is entitled "5oul on D!splay". The naming of this track was opened to the public and, of the hundreds of entries, the title chosen by MajanoX was selected.
Full In-Game Track Listing
Edit
Gran Turismo 5 (In-game music) (part 1)
No.
Title
Music
Length
1.
"Hold On"  
Friendly Fires
5:05
2.
"Implosionatic"  
Hot Hot Heat
2:31
3.
"Tenderoni"  
Kele Okereke
4:30
4.
"Planetary (GO!)"  
My Chemical Romance
4:06
5.
"Holding Hands"  
We Are Wolves
2:28
6.
"Blah"  
Whitey
3:54
7.
"Heads Will Roll (Nick Zinner"  
Yeah Yeah Yeahs
4:47
8.
"Nasty Secretary"  
The Hives
2:05
9.
"Scumbag Blues"  
Them Crooked Vultures
4:28
10.
"I Should Be Coming Up (But I Keep Coming Down)"  
Sky Parade
3:20
11.
"Cana do Brazil"  
Yasuo Sakou
4:28
12.
"Wind from Rio"  
Yasuo Sakou
3:56
13.
"Obrigado!Obrigado!"  
Yasuo Sakou
4:44
14.
"Sunday"  
Taroma Koshida
4:46
15.
"Wind Navigator"  
Taroma Koshida
3:35
16.
"East Avenue"  
Taroma Koshida
4:53
17.
"Holiday"  
Taroma Koshida
2:58
18.
"Apollo"  
Taroma Koshida
3:21
19.
"Cecile"  
Seigen Tokuzawa
3:15
20.
"Eve"  
Seigen Tokuzawa
3:50
21.
"Fiorenzo"  
Seigen Tokuzawa
4:09
22.
"Pavane Pour Une Infante Défunte"  
Joseph Maurice Ravel
2:59
23.
"Pavane Op.50"  
Gabriel Urbain Fauré
4:19
24.
"Ave Maria"  
Charles François Gounod
5:05
25.
"Rousseau Meditation From Thais"  
Jules Émile Frédéric Massenet
3:46
26.
"Gnossienne No.1"  
Éric Alfred Leslie Satie
3:12
27.
"Rêverie"  
Claude Achille Debussy
4:17
28.
"Waltz in C-sharp minor, Op. 64, No. 2 (ChopinWaltz In C-Sharp Minor Op.64 No.2"  
Frédéric François Chopin
3:18
29.
"Gymnopédie No.1"  
Éric Alfred Leslie Satie
3:29
30.
"Amazing Grace"  
 
3:24
31.
"Nocturne Op.9 No.2"  
Frédéric François Chopin
3:41
32.
"Piano Sonata No.8 In C Minor Op.13 "Pathétique""  
Ludwig van Beethoven
4:46
33.
"Danny Boy"  
 
3:13
34.
"Le Piccadilly"  
Éric Alfred Leslie Satie
1:31
35.
"Fünf Klavierstücke Op.3 No.1 Andante"  
Richard Georg Strauss
4:23
36.
"Symphony No.9 Op.95 "From The New World""  
Antonin Dvořák
4:31
37.
"Liebestraum No.1 "Hohe Liebe""  
Lang Lang
5:14
38.
"Piano Sonata No.17 In D Major Op.31-2 "Tempest""  
Ludwig van Beethoven / Lang Lang
7:35
39.
"Polonaise Op.40 No.1 "Military Polonaise""  
Frédéric François Chopin / Lang Lang
6:12
40.
"Étude In E Major Op.10 No.3"  
Fréderic François Chopin / Lang Lang
2:49
41.
"Grandes Études de Paganini, S.141 No.3 "La Campanella""  
Franz Liszt / Lang Lang
3:13
42.
""Air" On The G String"  
Johann Sebastian Bach / Lang Lang
5:27
43.
"The Nutcracker No.14 Pas de dex "Var.II Danse de la Fée-Dragée""  
Peter Ilyich Tchaikovsky / Lang Lang
2:21
44.
"Fantaisie-Impromptu"  
Frédéric François Chopin / Lang Lang
5:09
45.
"Minute Waltz"  
Frédéric François Chopin / Lang Lang
2:16
46.
"The Last Helping"  
Mitsuharu Ura & furani
4:04
47.
"New Age"  
AKIHISA YAMAGUCHI
3:43
48.
"Green Park"  
AKIHISA YAMAGUCHI
4:15
49.
"at night"  
AKIHISA YAMAGUCHI
4:21
50.
"The First Person"  
AKIHISA YAMAGUCHI
3:42
51.
"Cube"  
AKIHISA YAMAGUCHI
3:15
52.
"PARADE"  
AKIHISA YAMAGUCHI
3:50
53.
"Beautiful Area"  
AKIHISA YAMAGUCHI
4:03
54.
"Way"  
AKIHISA YAMAGUCHI
4:57
55.
"Finale"  
AKIHISA YAMAGUCHI
3:33
56.
"A Point Of Departure"  
Keiji Inai
3:46
57.
"In Transit"  
Keiji Inai
3:29
58.
"Sunset Haze"  
Keiji Inai
3:22
59.
"Orange Boulevard"  
Keiji Inai
3:43
60.
"Horizons in May"  
Keiji Inai
4:32
61.
"Twilight Moon"  
Keiji Inai
4:08
62.
"0&7"  
aM™[aem]
4:24
63.
"Something Must Break"  
gonno
5:02
64.
"Drive On Coins"  
gonno
5:02
65.
"Two Carfuls Of Momentos"  
gonno
5:21
66.
"radiotire"  
YO.C+B.U.S
4:26
67.
"Penelope Pitstop"  
Breakbot
3:25
68.
"I'm Not Alone (deadmau5 Mix)"  
Calvin Harris
8:15
69.
"Back Down (Cut Copy Remix)"  
Munk
6:57
70.
"Climax"  
Camo & Crooked
4:12
71.
"Escape Velocity"  
The Chemical Brothers
11:57
72.
"Talk Box (GT5 Edit)"  
DJ Fresh
4:12
73.
"Double Edge (GERM Remix)"  
Emika
5:16
74.
"The Lisbon Maru"  
Fuck Buttons (in-game as "F*** Buttons")
9:25
75.
"Words (Jester Dub) (GT5 Edit)"  
Goose
5:22
76.
"Aqua (Miles Dyson Remix)"  
Jiro Vega
5:39
77.
"Just One Second (Apex Remix)"  
London Elektricity
5:49
78.
"Cherry Moon"  
Lorn
3:36
79.
"Yellow Brick (GT5 Edit)"  
Noisia
4:19
80.
"Deep Space"  
Sub Focus
4:37
81.
"Rock It / Follow the Light"  
Sub Focus
5:34
82.
"Rock It / Follow the Light"  
Sub Focus
3:32
83.
"Poison Lips"  
Vitalic
3:49
84.
"Latch"  
Scuba
4:48
85.
"Keyring"  
Sunchase
7:33
86.
"Blaze It (Reset! Remix)"  
Hervé
4:50
87.
"Cruising"  
Helsinki 78-82
6:48
88.
"You're On My Mind Baby"  
Rusko
4:02
89.
"Rain and lady's heart"  
Yudai Satoh
3:24
90.
"Current of the times"  
Yudai Satoh
5:13
91.
"strolling"  
Yudai Satoh
3:14
92.
"Jolly Bounce"  
Yudai Satoh
3:16
93.
"Wave Train"  
Satoshi Bando
3:11
94.
"FULL COURSE CAUTION"  
Mitsutoshi Satoh
3:02
95.
"Second Driver"  
Mitsutoshi Satoh
3:12
96.
"CHRISTMAS TREE"  
Mitsutoshi Satoh
3:36
97.
"Are you ready?"  
Yudai Satoh
3:10
98.
"When The Rains Come"  
Satoshi Bando
5:14
99.
"Farewell"  
Satoshi Bando
4:26
Gran Turismo 5 (In-game music) (part 2)
No.
Title
Music
Length
1.
"Dark Line"  
Satoshi Bando
3:59
2.
"Mesmerium"  
Satoshi Bando
4:09
3.
"Slow On The Uptake"  
Satoshi Bando
4:00
4.
"Afterglow"  
Satoshi Bando
4:10
5.
"Smooth Talking"  
Satoshi Bando
3:49
6.
"Night Birds"  
Yudai Satoh
4:22
7.
"Get on!!!"  
Yudai Satoh
4:07
8.
"Gently, The Moon Always Watches You"  
Yudai Satoh
4:56
9.
"The power of GT"  
Yudai Satoh
4:11
10.
"Smoker's Lament"  
Ryo Sonoda
3:38
11.
"Park Side Café"  
Daisuke Kawai
3:57
12.
"Sea Line"  
Daisuke Kawai
3:51
13.
"Weekend"  
Daisuke Kawai
4:04
14.
"Mighty Engine"  
Daisuke Kawai
3:40
15.
"REMINISCENCE"  
NORIHITO SUMITOMO
3:49
16.
"SOLITUDE"  
NORIHITO SUMITOMO
3:59
17.
"TRACKS OF DREAM"  
NORIHITO SUMITOMO
4:41
18.
"WINDS"  
NORIHITO SUMITOMO
3:58
19.
"PATH FINDER"  
NORIHITO SUMITOMO
4:24
20.
"THE ROAD TO SUCCESS"  
NORIHITO SUMITOMO
3:58
21.
"SIDE OF YOU"  
NORIHITO SUMITOMO
4:27
22.
"HOT STUFF"  
NORIHITO SUMITOMO
3:48
23.
"West 132st"  
Daisuke Kawai
3:29
24.
"Sunrise Ocean"  
Daisuke Kawai
3:44
25.
"Madeleine"  
Daisuke Kawai
3:46
26.
"Modena"  
Daisuke Kawai
4:26
27.
"City Circuit"  
Daisuke Kawai
4:06
28.
"South Swing"  
Daisuke Kawai
3:56
29.
"So Tenderly"  
Daisuke Kawai
4:07
30.
"7 days reminiscence"  
Taku Yabuki
3:54
31.
"memorabilia"  
Taku Yabuki
3:41
32.
"Love&Peace"  
KEMMEI ADACHI
4:21
33.
"SEQUEL"  
cargo
2:49
34.
"PIANO-LOGIC"  
cargo
3:16
35.
"DRUMACT"  
cargo
2:07
36.
"BLACKOUT"  
cargo
2:40
37.
"feels so good"  
KEMMEI ADACHI
3:50
38.
"Evening Haze"  
KEMMEI ADACHI
3:40
39.
"Suite Dreams"  
KEMMEI ADACHI
3:39
40.
"come with me"  
KEMMEI ADACHI
3:45
41.
"Time Is Changing"  
MAKOTO
4:09
42.
"Places And Spaces"  
MAKOTO
3:56
43.
"Winter Dreams"  
MAKOTO
3:33
44.
"On My Way"  
MAKOTO
3:26
45.
"Back 2U"  
MAKOTO
3:42
46.
"Route Sunday"  
Mitsuharu Ura & furani
5:03
47.
"sun seaker noisever"  
Mitsuharu Ura & furani
4:23
48.
"GT-FORCE"  
cargo
3:21
49.
"Casino Drive"  
KEMMEI
3:50
50.
"Liberty"  
KEMMEI
4:16
51.
"Mirage"  
KEMMEI
4:15
52.
"Dream World"  
KEMMEI
4:21
53.
"Like a Bird"  
KEMMEI
4:25
54.
"my favorite wings"  
Maki Mannami
3:00
55.
"Xth Avenue"  
Yuto Takei
2:40
56.
"Exponential TimeLine"  
Yuto Takei
2:54
57.
"calm calm"  
Tyme.
2:44
58.
"a slowly day"  
Tyme.
2:52
59.
"The Trip"  
MAKOTO
4:09
60.
"Believe"  
MAKOTO
3:27
61.
"After The Rain"  
MAKOTO
3:31
62.
"Journey To The One"  
MAKOTO
3:38
63.
"Boogie Back"  
MAKOTO
3:17
64.
"Cubic Luster"  
Yuto Takei
3:21
65.
"spin your own wheels"  
Maki Mannami
2:42
66.
"the hat flew away by wind"  
annayamada
2:56
67.
"Lotus in dam"  
Akimasa Yamada (prismedia)
3:05
68.
"4 CHORDS"  
annayamada
2:46
69.
"Let me see your mind"  
Tyme.
3:07
70.
"Globe"  
Yuki Oike
3:17
71.
"Wind"  
Yuki Oike
3:23
72.
"Passion"  
Yuki Oike
3:13
73.
"5OUL ON DISPLAY"  
daiki kasho
3:49
74.
"Shadows of Our Past"  
daiki kasho
4:32
75.
"Runabout"  
Nittoku Inoue
4:43
76.
"Take Control"  
Nittoku Inoue
3:32
77.
"Twist"  
Nittoku Inoue
4:02
78.
"Gloss Of Speed"  
aM™[aem]
4:54
79.
"A Useless Time"  
aM™[aem]
4:46
80.
"Cross Over"  
DASH
3:33
81.
"wingy"  
DASH
3:50
82.
"Patterns"  
Band of Skulls
3:38
83.
"I Want You So Hard (Boy's Bad News)"  
Eagles of Death Metal
2:21
84.
"Pas Avec Toi"  
Plastiscines
2:58
85.
"The Lost Art of Keeping a Secret"  
Queens of the Stone Age
3:36
86.
"Gentlemen's Blues"  
The Fucking Eagles (in-game as The ****ing Eagles)
3:23
87.
"Undercover Martyn"  
Two Door Cinema Club
2:47
88.
"No Time (Beats Mix)"  
The Heavy
3:25
89.
"Police Sign"  
Pop Levi
3:03
90.
"The Sails of Charon"  
Scorpions
4:24
91.
"Baby (Breakbot Remix) [Unlisted, appears during Loading Screens]"  
Pnau
3:59
92.
"Piano Sonata No. 7 Op.83, 3rd Movement [Unlisted, plays over opening movie sequence]"  
Sergei Prokofiev / Lang Lang
 
Gran Turismo 5 Original Game Soundtrack
Edit
Gran Turismo 5 Original Game Soundtrack
Soundtrack album by

Various Artists

Released
December 22, 2010
Label
Village Records
Gran Turismo 5 Original Game Soundtrack Disc 1
No.
Title
Music
Length
1.
"Moon Over The Castle GT5 Version"  
Masahiro Andoh, Keizoh Kawano
6:11
2.
"Like a Bird"  
KEMMEI
4:25
3.
"my favorite wings"  
Maki Mannami
3:00
4.
"Cubic Luster"  
Yuto Takei
3:21
5.
"The Trip"  
MAKOTO
4:09
6.
"Take Control"  
Nittoku Inoue
3:32
7.
"Liberty"  
KEMMEI
4:16
8.
"Smoker's Lament"  
Ryo Sonoda
3:38
9.
"Passion"  
Yuki Oike
3:13
10.
"Dark Line"  
Satoshi Bandoh
3:59
11.
"Slow On The Uptake"  
Satoshi Bandoh
4:00
12.
"8va Curves"  
Keiji Inai
2:54
13.
"Night birds"  
Yudai Sato
4:22
14.
"Gloss Of Speed"  
aM
4:54
15.
"radiotire"  
YO-C+B.U.S
4:26
16.
"Drive On Coins"  
Gonno
5:02
17.
"5OUL ON D!SPLAY"  
Daiki Kasho
3:49
18.
"Day To Live"  
Daiki Kasho
5:23
Gran Turismo 5 Original Game Soundtrack Disc 2
No.
Title
Music
Length
1.
"7 days reminiscence"  
Taku Yabuki
3:54
2.
"WINDS"  
Norihito Sumitomo
3:58
3.
"Cecile"  
Seigen Tokuzawa
3:15
4.
"Holiday"  
Taroma Koshida
2:58
5.
"HOT STUFF"  
Norihito Sumitomo
3:48
6.
"Horizons in May"  
Keiji Inai
4:32
7.
"Madeleine"  
Daisuke Kawai
3:46
8.
"City Circuit"  
Daisuke Kawai
4:06
9.
"SOLITUDE"  
Norihito Sumitomo
3:59
10.
"Beautiful Area"  
Akihisa Yamaguchi
4:03
11.
"The First Person"  
Akihisa Yamaguchi
3:42
12.
"Eve"  
Seigen Tokuzawa
3:50
13.
"Sunday"  
Taroma Koshida
4:48
14.
"In Transit"  
Keiji Inai
3:29
15.
"Mighty Engine"  
Daisuke Kawai
3:40
16.
"Apollo"  
Taroma Koshida
3:21
17.
"SIDE OF YOU"  
Norihito Sumitomo
4:27
18.
"memorabilia"  
Taku Yabuki
3:41