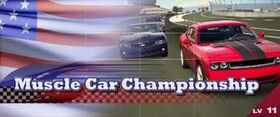 The Muscle Car Championship is a Professional Series Event available at level 11.
Requirements
Edit
A-Spec
B-Spec
Recommended Cars
Edit
Buick Special '62 - you win it from the Classic Muscle Car Championship and, with a bit of tuning, can thrash all your opponents.
Chevrolet Camaro SS '10 - It's priced reasonably (35,000 Cr), and with some aero parts, can outrun the pack. It'll be even better with Racing Mods, but this is as costly option.
Ad blocker interference detected!
Wikia is a free-to-use site that makes money from advertising. We have a modified experience for viewers using ad blockers

Wikia is not accessible if you've made further modifications. Remove the custom ad blocker rule(s) and the page will load as expected.