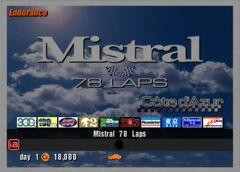 Mistral 78 Laps is an Endurance race from Gran Turismo 3: A-Spec. The event covers 78 Laps (the standard F1 Monaco Grand Prix distance) of the famous Côte d'Azur circuit. The event can be found, quite predictably, in the Endurance League of Simulation mode. This 78 Lap race also appears as one race of the Formula GT event in the Professional League.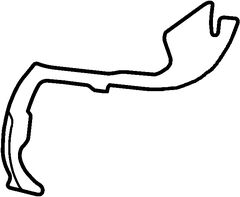 Circuit: Côte d'Azur
Distance: 78 Laps (161.887 miles (260.532 km))
Restrictions
Edit
1st: Cr. 500,000
2nd: Cr. 120,000
3rd: Cr. 100,000
4th: Cr. 80,000
5th: Cr. 50,000
6th: Cr. 12,000
The winner of this endurance race also receives one of the following cars at random:
Typical Opponents
Edit
Ad blocker interference detected!
Wikia is a free-to-use site that makes money from advertising. We have a modified experience for viewers using ad blockers

Wikia is not accessible if you've made further modifications. Remove the custom ad blocker rule(s) and the page will load as expected.