Mazda Raceway Laguna Seca (now called WeatherTech Raceway Laguna Seca) is a real-world circuit from the Gran Turismo series of games. It is an exact replica of the Laguna Seca Raceway near Monterey, CA in the United States. It has appeared in every game of the series since Gran Turismo 2, with the exception of Gran Turismo Sport.
Circuit Layout
Edit
The 2.24-mile (3.60-km) circuit consists of 11 turns, some slow and technical (notably 2 and 11, both hairpins) mixed with several faster corners. Laguna Seca also features more elevation changes than most circuits, with the drop from the top of the course (Turn 8) to the bottom (at Turn 2) at over 300 feet (91m). Turn 8 (and 8A) are thought by most professional drivers to be among the most difficult corners in the world. The complex, known as The Corkscrew, consists of a tight left hander at the top of the hill which releases into a steep downhill right.
Laguna Seca in Gran Turismo
Edit
The recreation of Laguna Seca in the Gran Turismo series is almost perfect, with every turn, ridge, and bump (the infamous Corkscrew included) from the real world circuit incorporated in the game. It appears in the following events in the series:
Beginner League
Edit
Amateur League
Edit
Professional League
Edit
Endurance League
Edit
License Tests
Edit
Classic Muscle Car Series - 3 laps
Tour of America - 4 laps
GT World Championship - 6 laps
Reverse Version
Edit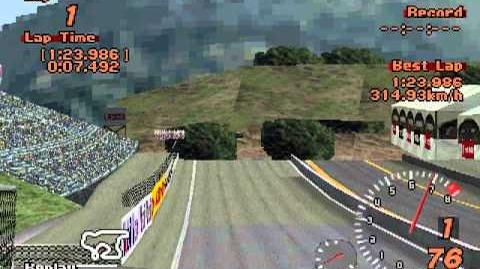 In Gran Turismo 2, Laguna Seca Raceway has an unused reverse version. The real track itself was not designed to be driven on backwards, so this is likely the reason this variant was not used. This version uses earlier road surface graphics, and has two replay cameras defined. There is also no AI pathfinding, the opponents will either simply stand still or will drive in a straight line into the wall and remain there. Additionally, you can not pit in on this track either. As a result of the unfinished state, textures may "pop" in and out and the draw distance seems to be lower as well.