This page is for the Gran Turismo 4 Event. For other uses, see Like the Wind (disambiguation).
Like the Wind (GT4)
League Level
Extreme
License Level
S License
Series Type
Single Race
No. of Races
1
Tyre Restriction
No restrictions
Tyre Wear
Yes
Car Type Restriction
No Restrictions
1st Place Prize
20,000 Cr
"Compete in the 1kg/hp power-to-weight ratio class."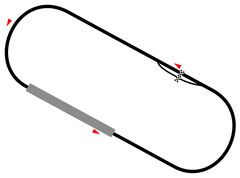 Like the Wind is a single race event in Gran Turismo 4. It takes place at the high-speed, 10 km Test Course, while the race itself is 5 laps long. It is housed in the Extreme Events area of the World Map.
Prize Structure
Edit
Prizes for Finishing Position
Edit
1st: Cr. 20,000
2nd: Cr. 8,000
3rd: Cr. 6,000
4th: Cr. 5,000
5th: Cr. 2,000
6th: Cr. 1,000
Prize Car
Edit