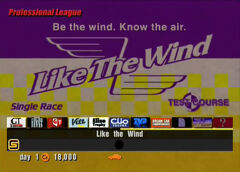 Like the Wind is a single race event from Gran Turismo 3: A-Spec. It takes place at the 10 km high speed Test Course, with the race itself being for 20 laps long. It is housed in the Professional League of Gran Turismo mode.
Event Restrictions
Edit
Car Restrictions: none
Tire Restrictions: none (Tire wear active)
License Requirements: S-License
Prize Structure
Edit
Prizes for Finishing Position
Edit
1st: Cr. 10,000
2nd: Cr. 6,000
3rd: Cr. 4,500
4th: Cr. 3,500
5th: Cr. 1,500
6th: Cr. 800
Prize Car
Edit
Successful completion of Like the Wind awards the player:
Typical Opponents
Edit
Your Opponents mostly drive Normal or Race Cars only with wings
Ad blocker interference detected!
Wikia is a free-to-use site that makes money from advertising. We have a modified experience for viewers using ad blockers

Wikia is not accessible if you've made further modifications. Remove the custom ad blocker rule(s) and the page will load as expected.