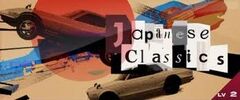 Japanese Classics is a Beginner Series event requiring level 2.
Requirements
Edit
Made in Japan
Year: 1979 or earlier
Prize Structure
Edit
Prize Money
Edit
1st: Cr. 5,730
2nd: Cr. 4,140
3rd: Cr. 3,660
4th: Cr. 3,440
5th: Cr. 3,340
6th: Cr. 3,280
Prize Cars
Edit
A-Spec:
B-Spec:
Recommended Cars
Edit
An additional photo mode location, named Kyoto Shoren-in, can be unlocked upon completion of this event. Excluding Special Events, this is the only event in Gran Turismo 5 to award the player with a photo mode location.