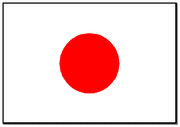 Japan is an island nation in East Asia. Located in the Pacific Ocean, it lies to the east of the Sea of Japan, China, North Korea, South Korea and Russia, stretching from the Sea of Okhotsk in the north to the East China Sea and Taiwan in the south. This country houses many brands of family cars and sports cars in most parts of the world.
Manufacturers
Edit
Photo Travel
Edit
Fish Market (presumably Tsukiji, Tokyo)
Gion, Kyoto
Marunouchi, Tokyo
Nanzenji, Kyoto
Sagano, Kyoto
Shibuya, Tokyo
Shoren-in, Kyoto
Tokagushi Kogen, Nagano
Tsumago, Kiso
Ad blocker interference detected!
Wikia is a free-to-use site that makes money from advertising. We have a modified experience for viewers using ad blockers

Wikia is not accessible if you've made further modifications. Remove the custom ad blocker rule(s) and the page will load as expected.