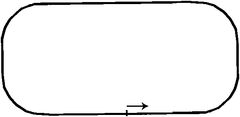 Indianapolis 500 is a Level 28 endurance race in Gran Turismo 5 based on the real-life Indy 500. The race is held at the Indianapolis Superspeedway and is 200 laps long in both A-Spec and B-Spec modes.
Requirements
Edit
Minimum Level: 28
Tire restrictions: None (A-Spec), Racing Tires (Hard, Medium, Soft) (B-Spec)
Typical Opponents
Edit
BMW V12 LMR Race Car '99
Audi R8 Race Car '01
Audi R10 TDI Race Car '04
Audi R8 (Audi Team PlayStation Oreca) '05
Pescarolo Courage C60 - Peugeot Race Car '03
Pescarolo Courage Judd GV5 Race Car '04
Pescarolo C60 Hybride - Judd '05
Prize Money
Edit
1st: Cr. 247,000
2nd: Cr. 117,000
3rd: Cr. 82,000
4th: Cr. 69,000
5th: Cr. 55,000
6th: Cr. 41,000
1st: Cr. 80,900
2nd: Cr. 38,200
3rd: Cr. 27,000
4th: Cr. 22,500
5th: Cr. 18,000
6th: Cr. 13,500
Prize Cars
Edit
Ad blocker interference detected!
Wikia is a free-to-use site that makes money from advertising. We have a modified experience for viewers using ad blockers

Wikia is not accessible if you've made further modifications. Remove the custom ad blocker rule(s) and the page will load as expected.