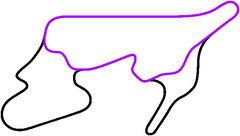 Grand Valley East is a fictional course that appears in all Gran Turismo games to date, excluding Gran Turismo 3 A-Spec and Gran Turismo Sport.
Similar to its full version, Grand Valley East consists of sweeping hairpins, undulating corners, and slight elevation changes throughout. About 35% shorter than the full Speedway, this variation omits the large crested s-bends, the tight hairpin, the bridge and tunnel section, and the final chicane. Nimbler, lighter sports cars will thrive here over heavy grand tourers and high-horsepower supercars.
Events Featuring Grand Valley East
Edit
Events marked with an asterisk are raced in reverse.
In the PAL version of Gran Turismo 2, when entering the first race of the MR Challenge in Special Events, the name of this track is misspelled as Grand Valley WestCourse. However, upon entering the race, the name of this track is correctly listed as Grand Valley East in the race menus.
Although this track, including its full version, is not included in Gran Turismo Sport, the Circuit Experience icon resembles the Grand Valley East.