The Gran Turismo World Championship is a Professional Series event available at level 14. It is the final race of the Professional Series and is the first to include a championship. Completing this championship awards both a PSN trophy and a movie unlock.
Requirements
Edit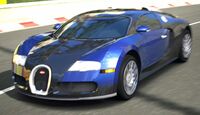 A-Spec
B-Spec
The Gran Turismo World Championship will require an excellent car that can both run fast and handle well. A good car to compete with is a tuned Nissan GT-R '07 which can be purchased at the Nissan Dealership, the Mazda Furai Concept '08 which can be won at the NR-A Roadster Cup (GT5) in B-Spec, or any NASCAR racer, as well as some of the faster FIA-spec GT cars, and especially racing prototypes such as the Mazda 787B or the Toyota GT-One. Due to there being no restrictions, the Gran Turismo Red Bull X2011 Prototype '11 can be used to win the races in quick succession.
Ad blocker interference detected!
Wikia is a free-to-use site that makes money from advertising. We have a modified experience for viewers using ad blockers

Wikia is not accessible if you've made further modifications. Remove the custom ad blocker rule(s) and the page will load as expected.