| | |
| --- | --- |
| | This page or section is under construction. It is currently in the middle of an expansion or major revamping. Be aware that this page may change drastically over time. Also, please try to avoid making major edits unless they are valid to the construction of the page. |
Gran Turismo Sport is a game in the Gran Turismo series. The game, which was released in October 2017,[1] is the first game in the Gran Turismo series to be released on the PlayStation 4. Gran Turismo Sport promises drastically improved graphic and sound quality but also a revamped physics engine.
A notable aspect in the game is that it is supported by the official governing body of motorsport, the Fédération Internationale de l'Automobile (FIA). As such, they sponsor the multiplayer events found in the game.
FIA and Gran Turismo involvment Edit
As an effort to make Gran Turismo to be recognized as a motorsport than gaming, the game will feature and hold two FIA online championships and will open to all ages.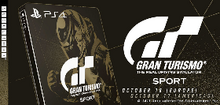 National Cup
Edit
In this championship, the player will either compete and race to represent their home country or spectate and cheer for the players who are taking part of a race.
Manufacturers Cup
Edit
In similar fashion as the national cup; this cup focuses on the player's support for their favorite car maker by either driving for their manufacturer or spectate.
The award ceremony
Edit
At the end of the championship, the winning players will be invited to the award ceremony held by the FIA.
Gran Turismo Games
Main Series
Prologues/Concepts
Other games
Other
Upcoming
Ad blocker interference detected!
Wikia is a free-to-use site that makes money from advertising. We have a modified experience for viewers using ad blockers

Wikia is not accessible if you've made further modifications. Remove the custom ad blocker rule(s) and the page will load as expected.