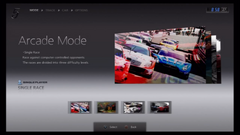 The Arcade mode is the secondary offline racing mode of Gran Turismo 5. An alternative to the main career mode, the arcade mode of GT5 is somewhat less detailed than in some previous versions. This makes it ideal as a quick way to play the game.
There is one PSN Trophy which must be acquired through Arcade mode gameplay (See full article: GT-R Official Record).
Modes of Play
Edit
Gran Turismo 5 features 3 single-player and one multiplayer arcade modes:
Cars available
Edit
You may use any and all cars from the game.
Single Race
Edit
Single race mode gives the player a choice of track (from those unlocked in career mode), car (see above) and difficulty (Beginner, Intermediate or Expert). It then begins a race as selected.
Time Trial
Edit
In the time trial, you can select a car and a track, and aim to shorten your laptimes on the course. You will be the only one on the track in this mode.
By displaying your previous driving data as a ghost car, you can race against yourself to analyze and better your driving technique.
This mode is great for learning course layouts and for driving practice.[1]
Drift Trial
Edit
Drifting is a manoeuvre where you intentionally make the car slide sideways. Your ability in mastering control of your car is judged and given points in a drift trial.
Select your track and car; this is a single player event.[1]
2P Split-Screen
Edit
This is a mode in which two players race each other head to head in a split-screen format. The screen will be divided into top and bottom halves, and if you have two controllers you can get racing right away.[1]
Once a track is selected, both players simply choose a car and start the race.
↑ 1.0 1.1 1.2 This section uses information from http://www.gran-turismo.com
Ad blocker interference detected!
Wikia is a free-to-use site that makes money from advertising. We have a modified experience for viewers using ad blockers

Wikia is not accessible if you've made further modifications. Remove the custom ad blocker rule(s) and the page will load as expected.