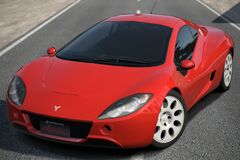 Autobacs, Japan's most popular automobile parts/service store chain, set out on making its own complete car, one that embraced the values of an exotic sports machine that anybody could drive. With the help of Kikuo Kaira, of Tommykaira fame, the company realized its goal under the name Autobacs Sportscar Laboratory and presented the world with the Garaiya at the 2002 Tokyo Auto Salon.
This Garaiya was a compact car, stretching 148.6 inches from bumper to bumper and riding on a wheelbase that measured 93.5 inches. It possessed classic sports car proportions, with a wide, low stance that measured 71.8 inches and 46.6 inches, respectively. ASL incorporated the latest technology in producing the Garaiya. This included using extruded aluminum architecture, with the front and rear subframes composed of square steel tubing.
Mounted amidships was Nissan's SR20VE, a 2.0-liter DOHC inline-4 that also saw duty in the Nissan Primera and Bluebird. Equipped with variable valve timing, this powerplant pumped out 201 HP and 151.8 ft-lb of torque, sending the power to the rear wheels via a 6-speed manual gearbox.
The Garaiya was produced in the United Kingdom and scheduled to reach buyers in 2002. However, because of various circumstances, not one car made its way into the hands of ordinary buyers. One car that did make its destination was a race version that has enjoyed success in the JGTC (All-Japan Grand Touring Car Championship).
Ad blocker interference detected!
Wikia is a free-to-use site that makes money from advertising. We have a modified experience for viewers using ad blockers

Wikia is not accessible if you've made further modifications. Remove the custom ad blocker rule(s) and the page will load as expected.