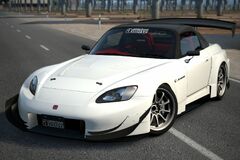 Power House Amuse is the know-how for tuning the S2000 for any application, from winding mountain roads to an all-out circuit on. One of their ultimate achievements is the S2000 GT1.
The design of the unique full body kit was actually created through cooperative development with Polyphony Digital. While Amuse was trying to add to the looks of the S2000, they had an opportunity to get together with the developers of Gran Turismo. Finding each other to be on the same wavelength, this collaboration came to be.
Hideki Tanabe, the president of Power House Amuse and a driving expert himself, worked to widen the car to 72 inches. Weight was reduced as much as possible, incorporating carbon in various aerodynamic parts, and by replacing other components with lighter materials. As a result, the total weight of the car was shoved down to approximately 1,120 kg.
The engine is just as special. According to Amuse, the base F20C engine was enlarged to 2.3 liters in displacement, and is combined with a GT30Pro-S turbine. The turbo modification obviously required reinforcement of the engine block and other parts, but it ore than pays off producing an amazing 617 HP, with a maximum torque of 383.3 ft-lb. This means that the car has an incredible power-to-weight ratio of 1.79 kg per 0 HP. The power train combined is also far from ordinary, utilizing a 7-speed sequential transmission to deliver this extreme power to the wheels.
Ad blocker interference detected!
Wikia is a free-to-use site that makes money from advertising. We have a modified experience for viewers using ad blockers

Wikia is not accessible if you've made further modifications. Remove the custom ad blocker rule(s) and the page will load as expected.