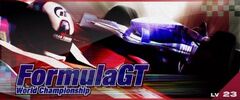 The Formula Gran Turismo World Championship is an Extreme Series event available at level 23 in Gran Turismo 5. There are six races, all 20 laps each in A-Spec, and all ranging from 30 to 37 laps in B-Spec. Unlike in the previous iterations of this event, the only car allowed in this championship is the Formula Gran Turismo, a quite rare car that can be found only in the Used Car Dealership, and previously, also in the Online Car Dealership. With the ending of the online services on May 2014, the latter method to obtain the Formula Gran Turismo is no longer available.
Requirements
Edit
Typical Opponents for Formula Gran Turismo World Championship (GT5)
PP
HP
KG
Car
PP 895
891 HP
550kg
Formula Gran Turismo
Tyres
A-Spec: Unrestricted
B-spec: Racing: Soft
At each race the prize money is consistent:
1st: Cr. 91,500
2nd: Cr. 66,100
3rd: Cr. 58,500
4th: Cr. 54,900
5th: Cr. 53,400
6th: Cr. 52,400
7th-12th: Lower than Cr. 50,000
The Experience Points (EXP) gained from each race varies at each different track.
In the championship of this event there are 6 races and they are in the following order: