The Formula Gran Turismo World Championship is a 15-part race series. It is the longest race series in Gran Turismo 4.
Background
Edit
The Formula Gran Turismo is designed to emulate Formula 1-style racing, with each race lasting just over 305 km (exactly like Formula 1, except in Côte d'Azur and Suzuka Circuit - two exception that also happen at the Formula 1 Monaco and Japanese Grands Prix respectively). All cars in the race series are Polyphony Formula Gran Turismo race cars, an imitation of Formula 1 race cars. These are the quickest (at least in the areas of grip and acceleration) cars in the game. They are held back though, due to the player only being able to use medium compound race tires, limiting the overall pace in endurance racing due to the constant need to go to the pits to replace worn down tires. The player may choose to use the same car in the race series, but may also use any other race car they feel would outpace the Formula cars throughout the race series.
In-game Text
Edit
"These are 15 races based on an original formula to decide the fastest in history."
Entry Conditions
Edit
The following conditions must be adhered to in order to particpate in this race series.
Car Restrictions - None
Tire Restrictions - None
A-spec license- S license
Rewards upon Completion of Series
Edit
Prize Money
Edit
Each race is worth 100,000 credits, and, when the full championship is undertaken, overall victory is worth 3,000,000 credits, the highest individual championship/race prize pool offered in Gran Turismo 4.
Reward Car
Edit
Depending on your version of Gran Turismo 4, winning the Formula GT World Championship will reward you with either the Sauber Mercedes C9 Race Car (International version), or the Polyphony Formula Gran Turismo (Black version) (Japanese version).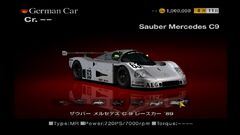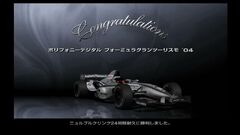 Races in Series
Edit
The following list is of each track in order of completion (in championship order), and how many laps required.