Ford Model T Tourer '15
Appears in
Gran Turismo 4
Manufacturer
Ford
Displacement
2878 cc
Drivetrain
FR[1]
Engine
2.9-liter L4 flathead/sidevalve engine
Max Power
20 BHP
Weight
635 kilograms (1,400 lb)
Power/Weight Ratio
31.75 kg (70.0 lb) per horsepower
The Ford Model T Tourer is a 1915 car which is featured only in Gran Turismo 4. It is commonly considered the first affordable car ever built, and has been voted the most influential car of the 20th century. 16.5 million were made since its introduction in 1908.
There only one color for this car:
Acquisition
Edit
This car can only be obtained by achieving gold on all Super License tests. It is showcased but not for sale in the Ford Dealership.
In Gran Turismo 4, the nitrous can't be applied on this car.
An unused string of text in Gran Turismo (PlayStation Portable) suggest that this car was originally planned to make an appearance in that game, together with the Audi Auto Union V16 Type C Streamline '37, the Hyundai Click Type-R '04 and the Mazda MX-5 '05. All of these cars, which the exception of the Mazda MX-5 '05, have made an appearance in Gran Turismo 4.
In Gran Turismo 2 and Gran Turismo 3 this vehicle has also been mentioned although it did not appear in the game.
In Gran Turismo 4, this car cannot be sold, only discarded from the garage.
On the back of the GT4 box, there is a picture of the Model T as a possible beta version of the car. (See picture below)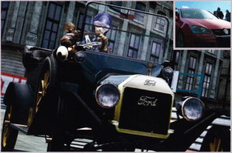 ↑

Front-Engined, Rear-Wheel Drive