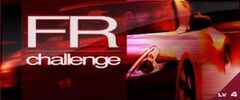 The FR Challenge is a Beginner Series event requiring level 4. As its name implies, it is strictly limited to only front-engined, rear-wheel driven cars.
Requirements
Edit
All races are 3 laps long in A-Spec and 6 laps long in B-Spec.
Prize Money
Edit
1st: Cr. 7,950
2nd: Cr. 5,740
3rd: Cr. 5,080
4th: Cr. 4,770
5th: Cr. 4,640
6th: Cr. 4,550
Prize Cars
Edit
Ad blocker interference detected!
Wikia is a free-to-use site that makes money from advertising. We have a modified experience for viewers using ad blockers

Wikia is not accessible if you've made further modifications. Remove the custom ad blocker rule(s) and the page will load as expected.