This article is about the event from Gran Turismo 5. For other meanings, see FF Challenge
"Aim for first place in this 3-race challenge for FF cars." - in-game text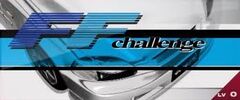 The FF Challenge is a three-circuit single-race event from Gran Turismo 5. It is housed in the Beginner Series area of Gran Turismo mode.
Event Information Text
Edit
"A single-race event aimed at beginner drivers of FF cars - front-wheel drive vehicles whose engines are also mounted at the front."
Event Restrictions
Edit
Car Restrictions:
Level Required: 0
Tyre Restrictions: None (A-Spec); Sports: Hard (B-Spec)
Tyre Wear: No
Typical Opponents
Edit
These are the typical opponents of this event:
| PP | Power (BHP) | Weight (KG) | Car (Name) |
| --- | --- | --- | --- |
| 404 | 196 | 1,280 | Alfa Romeo 147 2.0 TWIN SPARK '02 |
| 387 | 190 | 1,320 | Alfa Romeo 156 2.5 V6 24V '98 |
| 380 | 196 | 1,520 | Alfa Romeo 166 2.5 V6 24V Sportronic '98 |
| 401 | 215 | 1,415 | Alfa Romeo GTV 3.0 V6 24V '01 |
| 385 | 177 | 1,330 | Citroën C4 Coupe 2.0VTS '05 |
| 391 | 207 | 1,540 | Citroën C5 V6 Exclusive '03 |
| 386 | 197 | 1,496 | Citroën Xantia 3.0i V6 Exclusive '00 |
| 399 | 169 | 1,035 | Clio Renault Sport 2.0 16V '02 |
| 409 | 212 | 1,310 | Fiat Coupe Turbo Plus '00 |
| 415 | 220 | 1,430 | Ford Focus ST '06 |
| 386 | 170 | 1,240 | Ford Focus ST170 '03 |
| 397 | 215 | 1,390 | Honda ACCORD Euro-R '02 |
| 383 | 166 | 1,040 | Honda CIVIC SiR-II (EG) '95 |
| 414 | 221 | 1,270 | Honda CIVIC TYPE R '08 |
| 391 | 179 | 1,050 | Honda CIVIC TYPE R (EK) '98 |
| 413 | 212 | 1,170 | Honda CIVIC TYPE R (EP) '01 |
| 415 | 214 | 1,190 | Honda CIVIC TYPE R (EP) '04 |
| 377 | 165 | 1,100 | Honda CR-X del Sol SiR '92 |
| 383 | 157 | 986 | Honda CR-X SiR '90 |
| 410 | 199 | 1,080 | Honda INTEGRA TYPE R (DC2) '99 |
| 421 | 221 | 1,170 | Honda INTEGRA TYPE R (DC5) '03 |
| 420 | 216 | 1,180 | Honda INTEGRA TYPE R (DC5) '04 |
| 401 | 211 | 1,280 | Honda PRELUDE Si VTEC '91 |
| 396 | 192 | 1,260 | Honda PRELUDE SiR '96 |
| 400 | 214 | 1,310 | Honda PRELUDE Type S '98 |
| 402 | 197 | 1,340 | Hyundai Coupe FX '01 |
| 402 | 197 | 1,340 | Hyundai Tiburon GT '01 |
| 407 | 197 | 1,290 | Hyundai Tiburon Turbulence '99 |
| 404 | 197 | 1,440 | Hyundai Tuscani CCS '03 |
| 399 | 169 | 1,035 | Lutecia Renault Sport 2.0 16V '02 |
| 380 | 173 | 1,240 | Mazda 323F '93 |
| 396 | 197 | 1,470 | Mazda Atenza Sport 25Z '07 |
| 398 | 196 | 1,390 | Mazda Atenza Sports 23Z '03 |
| 386 | 169 | 1,260 | Mazda Axela 23S '03 |
| 375 | 162 | 1,170 | Mazda Familia Sedan Sport 20 '02 |
| 402 | 146 | 900 | Mazda KUSABI Concept '03 |
| 381 | 173 | 1,200 | Mazda Lantis Coupe 2000 Type R '93 |
| 414 | 220 | 1,400 | Megane Renault Sport '08 |
| 395 | 172 | 1,210 | MINI COOPER S '07 |
| 399 | 209 | 1,510 | Mitsubishi ECLIPSE Spyder GTS '03 |
| 404 | 197 | 1,150 | Mitsubishi FTO GP Version R '99 |
| 381 | 167 | 1,150 | Mitsubishi FTO GR '94 |
| 387 | 171 | 1,060 | Mitsubishi MIRAGE CYBORG ZR '97 |
| 406 | 197 | 1,170 | Nissan PRIMERA 2.0Te '90 |
| 389 | 196 | 1,320 | Nissan PRIMERA 20V '01 |
| 394 | 208 | 1,510 | Opel Vectra 3.2 V6 '03 |
| 394 | 174 | 1,110 | Peugeot 206 RC '03 |
| 403 | 177 | 1,080 | Peugeot 206 S16 '99 |
| 394 | 179 | 1,260 | Peugeot 207 GTi '07 |
| 401 | 197 | 1,260 | Peugeot 307 XSi '04 |
| 389 | 203 | 1,560 | Peugeot coupé 406 3.0 V6 '98 |
| 376 | 180 | 1,273 | Pontiac Vibe GT '03 |
| 408 | 197 | 1,135 | Renault Megane 2.0 IDE Coupe '00 |
| 402 | 179 | 1,177 | Seat Ibiza Cupra '04 |
| 398 | 197 | 1,200 | Toyota CELICA SS-II (ST202) '97 |
| 394 | 185 | 1,140 | Toyota CELICA SS-II (ZZT231) '99 |
| 387 | 173 | 1,080 | Toyota COROLLA LEVIN BZ-R '98 |
| 387 | 186 | 1,160 | Toyota COROLLA RUNX Z AEROTOURER '02 |
| 387 | 173 | 1,080 | Toyota SPRINTER TRUENO BZ-R '98 |
| 388 | 185 | 1,190 | Toyota WiLL VS '01 |
| 400 | 197 | 1,280 | Volkswagen Golf IV GTI '01 |
| 405 | 196 | 1,336 | Volkswagen Golf V GTI '05 |
Prize Structure (A-Spec)
Edit
Prize Money
Edit
1st: Cr. 4,100
2nd: Cr. 3,000
3rd: Cr. 2,620
4th: Cr. 2,460
5th: Cr. 2,390
6th: Cr. 2,350
7th: Cr. 2,330
8th: Cr. 2,280
Experience Points (Suzuka Circuit East)
Edit
1st: Exp. 271
2nd: Exp. 268
3rd: Exp. 265
4th: Exp. 262
5th: Exp. 259
6th: Exp. 256
7th: Exp. 253
8th: Exp. 250
Experience Points (Clubman Stage Route 5)
Edit
1st: Exp. 284
2nd: Exp. 281
3rd: Exp. 278
4th: Exp. 274
5th: Exp. 271
6th: Exp. 268
7th: Exp. 265
8th: Exp. 262
Experience Points (Deep Forest Raceway)
Edit
1st: Exp. 277
2nd: Exp. 274
3rd: Exp. 271
4th: Exp. 268
5th: Exp. 265
6th: Exp. 262
7th: Exp. 259
8th: Exp. 256
Prize Cars
Edit
Prize Structure (B-Spec)
Edit
Prize Money
Edit
1st: Cr. 4,100
2nd: Cr. 3,000
3rd: Cr. 2,620
4th: Cr. 2,460
5th: Cr. 2,390
6th: Cr. 2,350
7th: Cr. 2,330
8th: Cr. 2,280
Experience Points (Suzuka Circuit East)
Edit
1st: Exp. 234
2nd: Exp. 231
3rd: Exp. 230
4th: Exp. 228
5th: Exp. 227
6th: Exp. 226
7th: Exp. 225
8th: Exp. 224
Experience Points (Clubman Stage Route 5)
Edit
1st: Exp. 237
2nd: Exp. 233
3rd: Exp. 232
4th: Exp. 231
5th: Exp. 229
6th: Exp. 228
7th: Exp. 227
8th: Exp. 225
Experience Points (Deep Forest Raceway)
Edit
1st: Exp. 236
2nd: Exp. 232
3rd: Exp. 231
4th: Exp. 229
5th: Exp. 228
6th: Exp. 227
7th: Exp. 226
8th: Exp. 224
Prize Cars
Edit