This page is about the Beginner League Gran Turismo 3 Event. For other meanings, see Evolution Meeting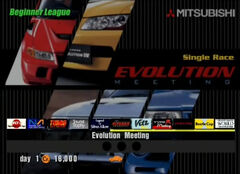 Evolution Meeting is a three race non-series event in Gran Turismo 3. It is housed in the Beginner Events area of Gran Turismo Mode/Simulation Mode. It's exclusive to any Mitsubishi Lancer Evolution available in the game.
Event Restrictions
Edit
Car Restrictions: Specific cars only:
Tire Restrictions: None
License Requirements: No License Required
Races in Evolution MeetingEdit
Prize Structure
Edit
Prizes for Finishing Positions
Edit
1st: Cr. 5,000
2nd: Cr. 2,500
3rd: Cr. 1,500
4th: Cr. 1,000
5th: Cr. 800
6th: Cr. 500
Prize Car
Edit
Successful completion of all 3 races in Evolution Meeting awards the player:
Ad blocker interference detected!
Wikia is a free-to-use site that makes money from advertising. We have a modified experience for viewers using ad blockers

Wikia is not accessible if you've made further modifications. Remove the custom ad blocker rule(s) and the page will load as expected.