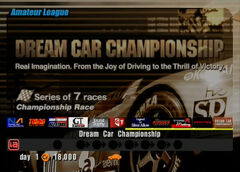 The Dream Car Championship is an Amateur League championship race in Gran Turismo 3: A-Spec.
Requirements
Edit
Racetracks
Edit
Prize Money
Edit
1st: Cr. 25,000
2nd: Cr. 15,000
3rd: Cr. 7,500
4th-6th: Cr. 0
Overall Champion: Cr. 150,000
Prize Cars
Edit
Winning this event will award you with one of the following:
Although this event is based solely on GT original race cars, the player can, more often than not, encounter a Tommy Kaira ZZ-II '00, which is a normal car, not a GT original race car.