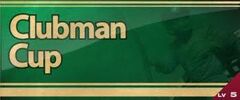 Clubman Cup is an Amateur Series event available from Level 5 of the Amateur Mode.
Requirements
Edit
A-Spec:
B-Spec:
TRD Celica TRD Sports M (ZZT231) '00
Recommended Car
Edit
If you can afford one, any Honda/Acura NSX should do the trick; if not you might be able to scrape by in an Impreza.
Ad blocker interference detected!
Wikia is a free-to-use site that makes money from advertising. We have a modified experience for viewers using ad blockers

Wikia is not accessible if you've made further modifications. Remove the custom ad blocker rule(s) and the page will load as expected.