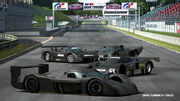 The "Black Cars" are a group of four secret racing cars featured in Gran Turismo 4 during days 694-700 of the calendar cycle. They are all painted, instead of in team liveries, in black. There also seem to be some other random black cars, such as a Honda S2000 Type V '01 and a Clio Renault Sport V6 24V '00. If the player decides to buy all four race cars, a total of 8,299,978 Credits is required.
The "black vehicle" concept is reused in Gran Turismo 5 with the Stealth Model vehicle series.
All the Black Cars are of Japanese origin. The reason for this is unexplained.
It is possible, although very rare, to encounter the A.I. using the Black Cars. They are usually encountered during Arcade mode. More often than not, they primarily use the black Nissan R92CP. Encountering two Black Cars in one race is possible if one is lucky enough.
The Formula Gran Turismo is awarded in black for achieving 100% completion of the game.
Ad blocker interference detected!
Wikia is a free-to-use site that makes money from advertising. We have a modified experience for viewers using ad blockers

Wikia is not accessible if you've made further modifications. Remove the custom ad blocker rule(s) and the page will load as expected.