Autumn Ring Mini is the shorter version of Autumn Ring. It is featured in all games that the bigger track is featured in, though in Concept it was unusable due to it being remodeled. As seen in the next featured game.
It is currently the only track from the original game still in the modern titles to have had a layout change.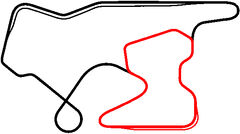 In Gran Turismo 2, this is one of the two circuits available only in Arcade Mode, the other being Motor Sports Land.
A hidden variation of the track, called rogo-test, exists in the original Gran Turismo. While the track's layout is the same, any car racing there will appear shinier - at the same levels as the Trophy screen at the end of a championship or a race.
During Its absence from GT3:A-Spec and GT Concept the bypass section on Autumn Ring Mini was remodeled to be longer and add a extra turn.
With the full track, Autumn Ring Mini is set during Autumn.
Ad blocker interference detected!
Wikia is a free-to-use site that makes money from advertising. We have a modified experience for viewers using ad blockers

Wikia is not accessible if you've made further modifications. Remove the custom ad blocker rule(s) and the page will load as expected.