Autumn Ring Mini is one of the available tracks in the Gran Turismo series, though it was removed in Gran Turismo 3: A-Spec. It is a shorter layout of the Autumn Ring circuit.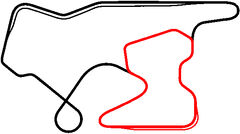 In Gran Turismo 2, this is one of the two circuits available only in Arcade Mode, the other being Motor Sports Land.
A hidden variation of the track, called rogo-test, exists in the original Gran Turismo. While the track's layout is the same, any car racing there will appear shinier - at the same levels as the Trophy screen at the end of a championship or a race.
Ad blocker interference detected!
Wikia is a free-to-use site that makes money from advertising. We have a modified experience for viewers using ad blockers

Wikia is not accessible if you've made further modifications. Remove the custom ad blocker rule(s) and the page will load as expected.