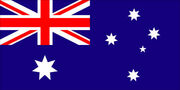 Australia, officially the Commonwealth of Australia, is an Oceanian country comprising the mainland of the Australian continent, the island of Tasmania, and numerous smaller islands. Many car manufacturers here are primarily based on the American Ford.
Manufacturers
Edit
FPV and HSV (Ford Performance Vehicles and Holden Special Vehicles) are the performance vehicle branches of Ford and Holden, respectively. Tickford is also part of Ford. The Tickford Falcon XR8 first appeared in GT3: A-Spec, then became the Ford Falcon XR8 thereafter.
Ad blocker interference detected!
Wikia is a free-to-use site that makes money from advertising. We have a modified experience for viewers using ad blockers

Wikia is not accessible if you've made further modifications. Remove the custom ad blocker rule(s) and the page will load as expected.