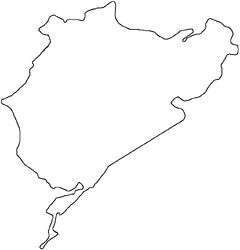 The 24 Hours of Nürburgring is based on the real-life 24-hour race, introduced in 1970 by the ADAC. It was held in 1970-1973, 1976-1982, 1984 and so on.
Gran Turismo producer Kazunori Yamauchi has entered the real race several times as a driver.
In Game Text
Edit
"A grueling 24-hour endurance race on a special track that combines the Nürburgring's Nordschleife and GP courses."
Entry Requirements
Edit
None, but opponents drive fast cars.
Prize Structure
Edit
Prize Money (A-Spec)
Edit
1st: Cr. 1,830,000
2nd: Cr. 864,000
3rd: Cr. 610,000
4th: Cr. 508,000
5th: Cr. 407,000
6th: Cr. 305,000
Prize Money (B-Spec)
Edit
1st: Cr. 599,000
2nd: Cr. 282,900
3rd: Cr. 199,700
4th: Cr. 166,400
5th: Cr. 133,100
6th: Cr. 99,800
Prize Cars
Edit
Opponents
Edit
The game loads fast opponents' cars. These include for example a BMW McLaren F1 GTR Race car, BMW V12 LMR, Audi R8 '01. When this event is loaded for another time, this game will load Toyota GT-One Race car, Mazda 787B Race car, Toyota 7 Race car or - in some cases - even a Jaguar XJ13 Race car or Chaparral 2J.
Slower opponents drive a Blitz Dunlop ER34 Skyline, Ford Falcon XR8 2000 and Lister Storm Race Car. Slightly slower cars - Audi R8 LMS Race car (both variants).
Recommended car
Edit
Hence opponents drive very fast cars in this event, a well-set car is essential to win this race in both A and B spec. For both A and B spec, the Red Bull X2010 S. Vettel is a perfect choice as it turns fast and reaches high speeds exceeding 250 mph. LMP race cars are also good choices as well.
Real Life Winners
Edit